Dear Subscriber,
Here at www.GlosJobs.co.uk, we have had a very busy year bringing you a huge variety of jobs from across Gloucestershire and we hope that you have found our services useful.
It comes as a surpise to me that we will have advertised 30,000 roles in 2014, some of which are below. We plan to bring you many more in 2015...
If you have found our website useful, it would be lovely to hear from you so we can put your comments on our testimonials page.
Any comments, positive and constructive are always welcomed and we try to act on suggestions, where we can, so we look forward to hearing from you.
Remember that you can find out what is going on over Christmas on www.glos.info.
Have a fabulous Christmas from all at GlosJobs.co.uk and see you in January.
Many thanks,
Belinda Wilson
01242 700435
office@glosjobs.co.uk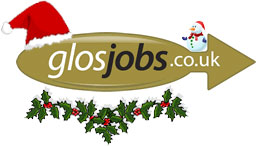 Follow @GlosJobs on Twitter

Like GlosJobs on Facebook
Thank you for signing up to receive emails from www.GlosJobs.co.uk. If you find that you now do not wish to receive details of new vacancies from us, please unsubscribe at the bottom of this email.
---
---
---
---
---
---
---
---
---
---
---
---
---
---
Creative Kids After School & Breakfast Care - Deputy Supervisor

Playgroup and Childcare Vacancies - Longlevens, Gloucester

Click here for more details
---
---
---
---
---
---
---
---
---
---
---
Community Engagement Officer (Inclusion) - Fixed Term Contract - initially 12 months

Cheltenham Borough Council - Cheltenham

Click here for more details
---
---
---
---
The Coombs - Bank Housekeeping / Kitchen Assistants

The Orders of St John Care Trust - The Gorse, Coleford, GL16 8QE

Click here for more details
---
---
---
To update your email preferences click here. If you would prefer not to receive future mailings from GlosJobs.co.uk, please click here.